The main tour was a 10 day boat trip around Svalbard with the small ship MV Quest, arranged by PolarQuest. This was a fantastic tour with a lot of wildlife and a lot of nice landscapes in good light. Svalbard has really a fascinating landscape with mountains, glaciers and fjords.

The ship took 50 passengers, and we were using 5 Zodiacs (rubber boats) for excursions to land or cruising around in the ice in front of the glaciers or looking at polar bears.

Before the boat trip we spent 6 days on our own in Longyearbyen with surroundings, with excursions to the mountain of Sarkofagen, visiting the Russian coal town Pyramiden and a kayak trip across Adventfjorden. We also made smaller trips on bicycle or by foot.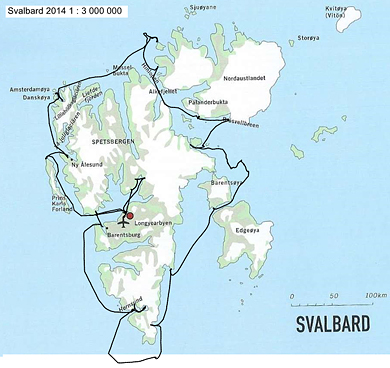 Some adjustments to be done in pictures and text (2014-10-08).
Longyearbyen and surroundings:
Longyearbyen with surrounds, including geoacaching
Mountain of Sarkofagen
Kayak trip across Adventfjorden to Hjorthamn
Boat trip to Pyramiden
10 day boat trip around Svalbard::
Prins Karl Forland (Poolepynten and Fuglehuken)
Ny Ålesund
Dansköya (Danish Island) with Andrée monument
Amsterdam Island and Smeerenburg
North of Svalbard (Lågöya)
Hinlopen strait
Alkefjellet
Bråsvellbreen
Edgeöya
Isbukta
Hornsund
Barentsburg
Alkepynten
Photos, and a short description of each part of the trip, will be found when clicking on the links at the headers, or on the photos.
some film sequences below