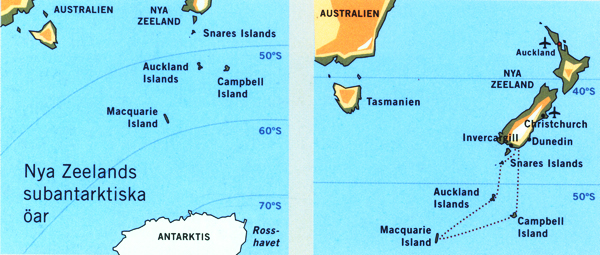 11 days bus trip on New Zealand main land
Auckland - south of Auckland - Rotorua and volcanic areas - flight to Christchurch - Kaikoura - Tranz Scenic railway to Greymouth - Fox Glacier - Mt Cook - Queenstown - Doubtful Sound - Dunedin with a number of places on the road
Visiting many scenic parts of New Zealand and meeting a lot of very friendly people. Guided by a very knowledgeable, entertaining and friendly guide, Malcolm Campbell.
11 days boat trip to the subantarctic islands (3 000 km, 1 600 nm)
Dunedin - Snares Islands - Auckland Islands - Macquarie Island (Australia) - Campbell Island - Bluff, including 1-2 days on the sea between each group of islands.
Seldom visited islands, with a unique flora and fauna, part of UNESCO World Heritage. Expedition leader Rodney Russ (founder of Heritage Expeditions and previously NZ Wildlife service, subantarctic expert and enthusiast).