Map (clickable):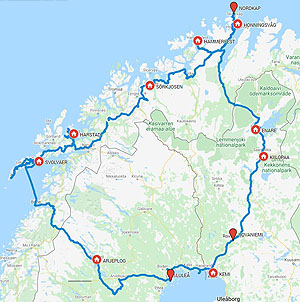 We visited two geocaching megaevents far up in the north. They seemed close to each other but the distances are long.
Since we like the nature far up in the north, we decided to make a round trip during fourteen days. Thus combining the two megaevents with enjoying the nature and also to do some more geocaching.
Viking event in Trondenes outside Harstad (7-9th of June)

Midnight sun event in Kiilopää (14-16th of June)
Around 500-1000 geocachers, mainly from the Nordic countries, but also from other parts of the world, get together in each event, perform different activities and find geocaches. Both events were very successful and well arranged.
Mid June is a wonderfult time, with midnight sun, fresh greenery, new mountain flowers and some snow.
During the trip we covered:
The inner parts of Norrbotten (Arjeplog, "Silver road")

Hurtigruten boat trip to Lofoten

Lofoten

Geocaching megaevent around Harstad

The road across Troms and Finnmark to North Cape

North Cape

The road across Finnmark to Finnish Lapland

Lake Inari

Geocaching megaevent around Kiilopää

The road south via Rovaniemi to Kemi and Luleå
Two films below with Hurtigruten meeting and Sami midnight sun dance