One week paddling kayak in the

Kvarner

Bay in Dalmatia, northern Croatia. The trip was organized by Trackers together with Sea Kayak Croatia. In order to camp, where land is private (no "allemansrätt"), you need a Croatian company with contacts.
Two skilled and very social Croatian guides, Yogi and Bafo, lead the trip together with the the also very skilled and social Swedish guide Carin Green. We had a very nice trip together with happy participants.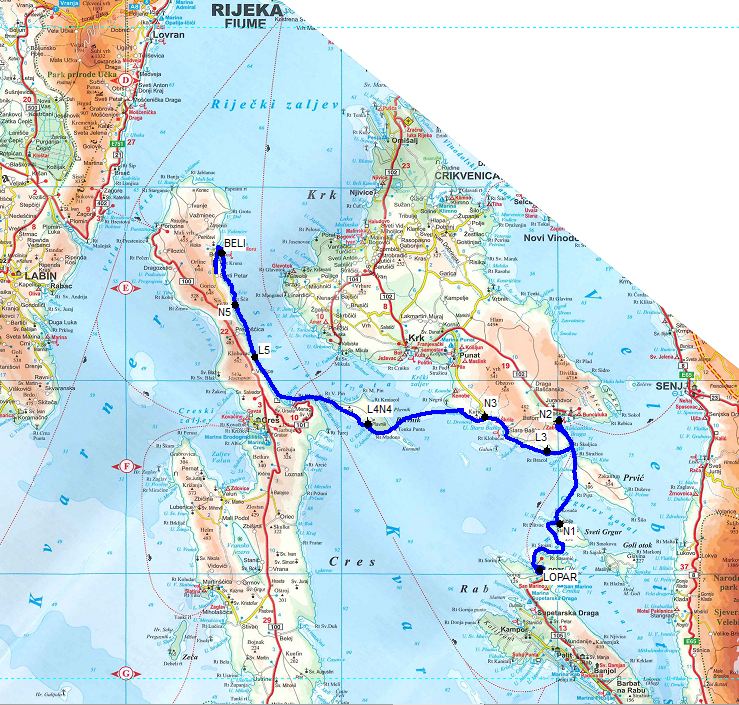 Flight to Zagreb, minibus to Rab. Dinner in the old town.

Sightseeing in Rab old town. Lopar (Rab) - western bay of Sv. Grgur in late afternoon

Sv. Grgur, passing the island of Prvic, to Baska. Visiting the town.

Baska, southern side of the island of Krk, to a bay west of Stara Baska

Stara Baska, with crossing to the island of Plavnik. Cave watching.

Plavnik, watching Griffon Vultures, to bay on Cres

Cres, watching Griffon Vultures, to Beli. Dinner.

Minibus early in the morning to Zagreb.
The week started with wind, thunderstorms and heavy rain (mainly during one night) but afterward the weather got better and better, and we ended on a calm Adriatic Sea with the sun shining. The archipelago is not like the Swedish archipelago, with thousands of small islands, but instead a number of larger islands, with 3-7 km crossings between them and a lot of open sea. You mainly follow the coast line.
The nature is rough, but you can find bays with sand or pebbles. On the cliffs you find, on two places, the rare Griffon Vulture, a scavenger and Europe's largest bird with 2.80 meter wingspan. Due to the weather we unfortunately missed the northern part of Rab, which should be spectacular.
Photos, and a short description of the trip, will be found when clicking on the links at the header, or on the photos to the right.