A fantastic 3 week trip, where 2 weeks were spent in northern Botswana. The Okavango delta and the Moremi, Savuti and Chobe reserves were visited (there are no fences in reserves, just a legal protection). 12 days wild camping among the animals, even if some nights between the reserves were spent in more organized camps. The trip ended at the Victoria Falls in Zambia/Zimbabwe.

During the trip we used mokoros (wooden canoes), doing walks in the area and most time we travelled using open jeeps. The drivers/guides were very skilled. We saw a lot of animals, including the big five, and by camping in the free we got more opportunities to see animals. Evenings/mornings were fantastic.

Temperature around 35-40 degrees Celsius in the days, around 20 in the nights. Only some small rains.

The trip was organized by Äventyrsresor, using Sunway Safaris.

After this we had a 4 day private tour, going by car, in the Cape area around Cape Town.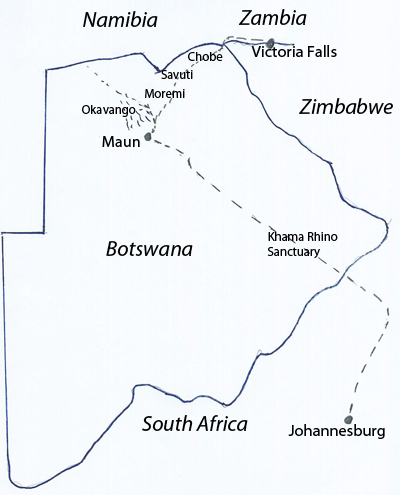 Botswana :
Johannesburg - Maun (north Botswana), 1100 km going by lorries on good roads. (2 days)
Khama Rhino sanctuary (saving white rhinos) on the road through Botswana (first night)
Okavango delta, going by mokoros and walking (3 days)
Moremi reserve, game drives (3 days)
Savuti reserve, game drives (2 days)
Chobe reserve, game drives and boat trip (2 days)
Kasane - Livingstone, passing Zambesi river to Zambia with ferry
Victoria Falls, Zambia and Zimbabwe side (2 days)
Johannesburg, before the Botswana trip (1 day)
Cape Town including Table Mountain in perfect weather (1 day)
Cape peninsula, going to De Kelders for the night (1 day)
De Kelders (south of Hermanus) for whale spotting in the morning and then going to Stellenbosch
Stellenbosch and going to the airport in the afternoon
Photos, and a short description of each part of the trip, will be found when clicking on the links at the headers, or on the photos.
some film sequences below